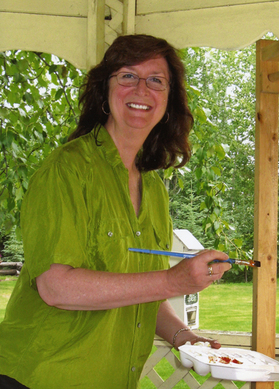 Please click on the following to read:
Laura (Laurie) has been a resident of Prince George for over 20 years working as an art educator and artist. She was born in Thunder Bay and studied at the School of Art at the University of Manitoba.

Having lived by Lake Superior in Ontario, on the prairies in Manitoba, by the Pacific Ocean and mountains and now in northern British Columbia,
she has experienced great geographical diversity in each of these spectacular and unique locations. Nature, therefore and in particular the landscape, has been a major focus in her artwork throughout the years. She hopes that her work will encourage others to appreciate and experience nature as well as to practice good stewardship.

Being involved in local community endeavours is important to her and also very inspirational. Whether it was the Spirit Bear project, the City's Banner program or various local murals, she has been very happy to be able to participate. In fact, these projects have been a driving force for her in creating art and connecting with other artists.

She is a member of Two Rivers Gallery and is currently teaching various beginners classes there in drawing, watercolour and acrylics. She is also a member of the Community Art Council with Studio 2880 and the Artists' Workshop.